Lieferzeit
ab 04.03.2020 verfügbar (+ 1-2 Werktage Lieferzeit)
Record your DJ sets and easily share with fans and listeners around the world on Mixcloud and Soundcloud at the press of a button
Professional standard audio straight to your Android or iOS smartphone - the one thing that's always with you
Super-portable design (85g) made from durable high-grade aluminium - fits in your pocket and built to withstand the stresses of the DJ Booth
The EvermixBox4 is the latest evolution of our multi-award nominated MixBox2 - already trusted by thousands of DJs, promoters and venues. The pocket-sized EvermixBox4 plugs into the back of your mixer and into your iPhone / iPod touch / iPad / Android smartphone, where the Evermix App allows you to record the set in super high quality. After your set, share to Mixcloud + Soundcloud or save to cloud storage locations such as iCloud, Dropbox, Google Drive. Same high quality audio recordings, exciting new features! Compatible with Facebook, Instagram Live and Youtube to let you livestream in perfect audio quality. Made from aluminium and designed in the UK by specialist audio equipment manufacturers, the EvermixBox4 is light (85g) but highly durable and designed to withstand even the most chaotic DJ booth!
Features:
Record your DJ sets and easily share with fans and listeners around the world on Mixcloud and Soundcloud at the press of a button
Professional standard audio straight to your Android or iOS smartphone - the one thing that's always with you
Super-portable design (85g) made from durable high-grade aluminium - fits in your pocket and built to withstand the stresses of the DJ Booth
Easy 'plug in and play' system lets you set up in seconds - no messing about before you take to the stage
Self-attenuation software to limit the peaks and stop your recording clipping - never lose a set to distortion
Livestream your performances on Facebook, Youtube, Instagram, and most other leading streaming apps to get your skills seen
Edit your set in the free Evermix App
Now capable of four channel 'crowd capture' recording to bring your listeners closer to the action by hooking up an external mic.
Technische Daten:
Maße: 90 x 40 x 30 mm
Gewicht: 90 g
iOS COMPATIBILITY:

Compatible with iOS 9 or later on iPhone, iPad, and iPod touch with lightning connector port.
iPhone X, iPhone 8, iPhone 8 Plus, iPhone 7 Plus, iPhone 6s Plus, iPhone 6 Plus, iPhone 7, iPhone 6s, iPhone 6, iPhone 5s, iPhone SE.
12.9-inch iPad Pro, 10.5-inch iPad Pro, 9.7-inch iPad Pro
iPad mini 4, iPad mini 3, iPad mini 2
iPad Air 2, iPad Air
iPad (5th generation)
iPod touch (5th generation upwards)
iPhone XS/XS Max, iPhone XR
Not currently compatible with iPad Pro 3 with USB-C Connection

CHARGING YOUR PHONE DURING RECORDING:

iPhones, iPads, iPods can be charged through the EvermixBox
Charging your device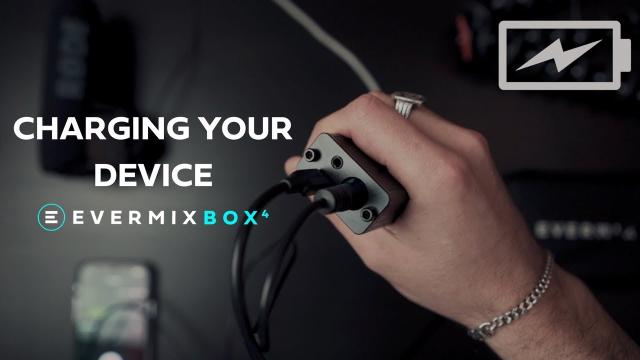 Charging your device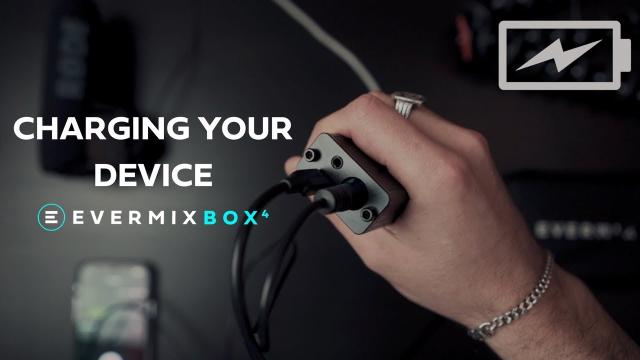 Crowd Capture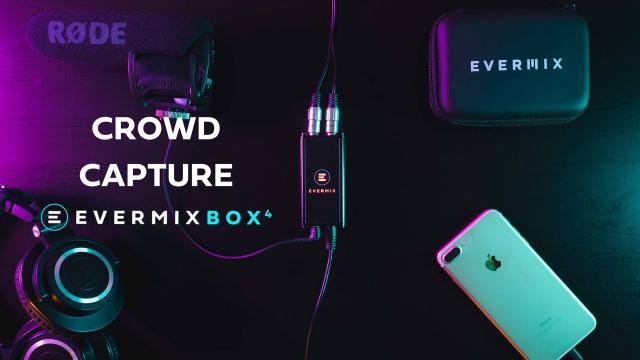 Recording your DJ Set with Evermix - Connecting to the mixer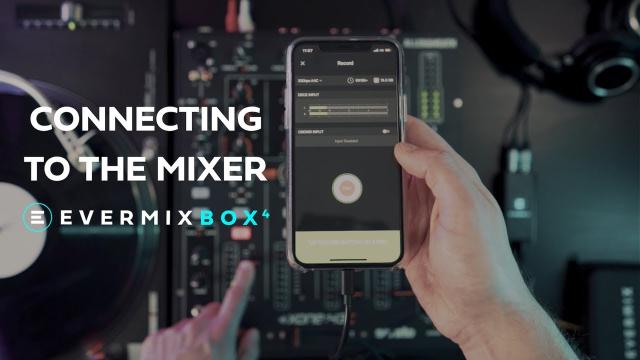 Uploading your DJ Mix to Mixcloud & Soundcloud
Editing your DJ Mix